Warm-up: What qualities make a fruit fly a good model organism?

Exam review:
Required- Genetics Review of Understanding
Required- Karyotype
Required- Epistasis Practice

You MUST Choose 1 of the following (choose 1 extra to receive 2 bonus points on the test):
Do all Vocab
Genetics Quiz- Non- Mendelian Inheritance
Ch. 5 Questions on page 104: Review Questions 2-4, 5, 7 and Applied questions 1, 3


​TEST TOMORROW!!!
Powered by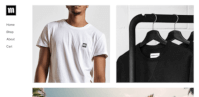 Create your own unique website with customizable templates.