Pick up protein models

Warm-up 4: Explain how the order of amino acids influences the structure of the protein. Use your model as an example.

1. Protein/Nucleic Acid Notes
2. Finish protein model
3. Reading labels lab
4. Biochemistry summary

HW: Study for biochemistry quiz tomorrow

Protein Folding Activity Extension Questions:
Answer the questions below in complete sentences in your notebook below the protein folding questions on page 16 of your notebook:
1.What types of bonds are responsible for the primary structure of proteins?
2.What types of bonds are responsible for the secondary structure of proteins?
3.Identify and describe three functions of proteins.

Powered by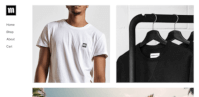 Create your own unique website with customizable templates.